NEXT PAGE
1
2
3
4
5
6
7
8
9
10
11
12
13
14
---
---
K-38 Hull#34
Reward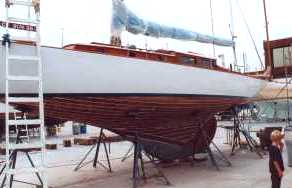 Here is a photo from the Baja Naval yard right after re caulking the bottom.
Thanks Mike and Megan for the picture. Keep em' comin'!
---
| | |
| --- | --- |
| | |
| A one class classic on San Francisco Bay is the BEAR BOAT. This is hull#8, called POLAR BEAR, built in 1938 by Nunes Brothers in Sausilito. | A "quick and dirty" bottom job to stabilize things until a proper effort can be mounted next season. We found it necessary to install 24 sisters!!! Not bad for 72 years old!!!. |
Visit the Bear Boat website at www.bearboats.com
---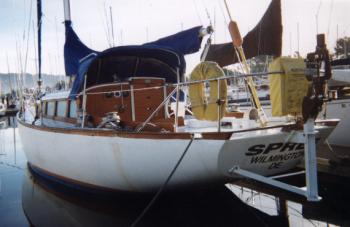 Joe Angelo's K-43 aluminum hull (one of 3).

---
The following pictures sent in by Rish Pavelec


Click for bigger picture.
Scamp is the 1st PC built. Though you can't see him, George K. at the helm.


Click for bigger picture.
Line up of PC's taken sometime in the 30's.
---
K-43 DAWN STAR
Owners: Andy and Rita Zimbaldi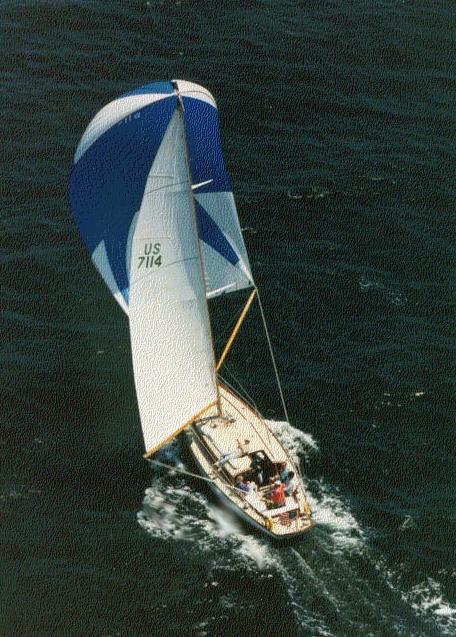 Click for bigger picture.
---
The following 3 pictures submitted by Scott Wild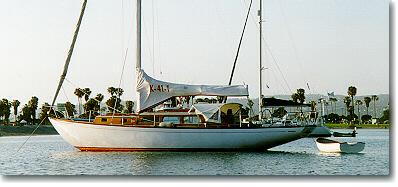 This K41 is Paul K. original boat aka
TOMBOY now called Nations and for sale. John Probascoe
is the listing broker 619 954 9966. Great boat needs work.
Thanks Michael Schau for identifying this for us!
Thanks for Fred Pettersen for the info on this K-50!

This is K-50 , Irish Mist. When we saw her she was owned by Jim and Gail Hughes. Jim had added the hard dodger which is just visible in the picture. We met them at the start of our circumnavigation in early 1993. They were anchored in Puerto Pichilinque( near La Paz), Baja California Sur. Being fellow K-50 owners we had lots to talk about and got in some spear fishing as well at some of Jim and Gail's favorite haunts. I think they are doing captained charters now in the same general area.

We are still looking for info about this boat. If you can help, please send us an email.
---
K-38
#8 Amadeus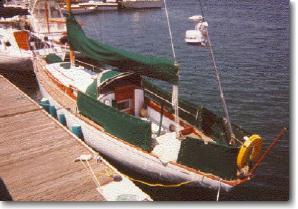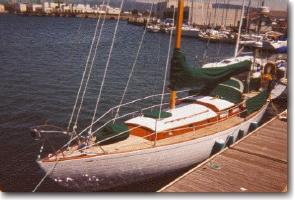 ---
Photos courtesy of Rish Pavelec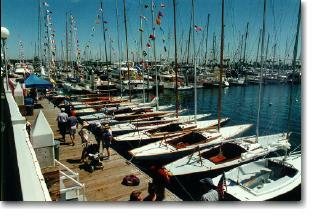 PC Lineup at the SDYC on Opening Day 1998
| | |
| --- | --- |
| #63 PUFF Interior | #63 PUFF rear |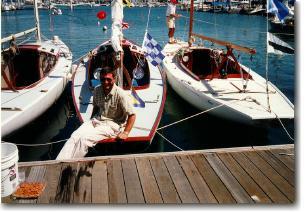 CF Koehler on #63 PUFF on Opening Day of SDYC 1998.
Note two Silver Awards on settees.

PC #36 on trailer just delivered from
Ventura to the Koehler Kraft Yard


PC #36 rear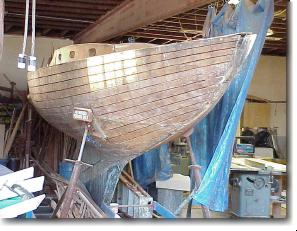 PC #36 in the building at Koehler's
| | |
| --- | --- |
| Deck of #40 being prepared for fiberglass matting | Hull of #40 |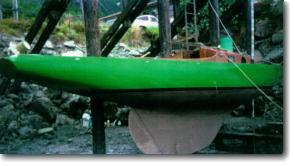 #76 in Alaska on the ways for bottom paint