Fishing Boat Memoire
---
*38' Albacore Boats by Kettenburg - Ruth K*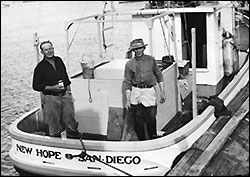 I do not know if this is of interest, but.....My father Vardon Gregg, bought a Kettenburg in the early 1940s, and built it himself from the deck up. The New Hope was a 38 foot boat, with a 6 cylinder Detroit Diesel engine....He fitted it with a "swordfish Plank", which he used when not fishing for albacore.

In the photo, my father is on the left wearing the dark shirt.>

Thank you for your website, and for re-kindling my memories....

Evelyn Anderson

---
Steve,

I wasn't around when the New Hope was around. I've asked around to my old friends but no response. I have a story about the new hope from a 1953 fishing mag. that says -- "The New Hope, formerly of San Diego is working successfully in the Gulf of Aden, under charter to the Food and Agriculture Organization of the United Nations. The bait boat has demonstrated successful bait catching techniques in these waters."

I also seem to remember seeing a story that it was put on a barge and shipped somewhere lie that. Maybe one of my friends will send me some pictures some day.

Mike...
---
Steve heres the story I was looking for...

Italy buys tunamen.

Italy is going into the tuna business, as an Italian shipping firm successfully negotiated the sale of the New Hope, a 38ft. Kettenburg built albacore boat. New Hope was owned by well known tuna skipper Don Byrd and valued at 15,000 dollars. Arrangments were made to ship the K38 abourd a steamship for Antrep, where an Italian crew will sail her to Naples to be outfited for fishing operations in the Gulf of Aden. This is the furthest I know of a Kettenburg being sent. The New Endever was sent to Tahiti. This happened in the middle of 1952, New Hope being sold.
---
*Kettenburg: Martha W*

Mike McCorkle reports that he found this 32 foot Kettenburg fishing boat at McAlpine Lake in San Juan Bautista.

The boat was originally named MARTHA W. It was owned by Larry Wright in Newport Beach. He moved up to Morro Bay in the early '60s. He built a larger cabin than the original. The next owner then built the cabin seen here. It was owned by the Davi Family and was kept in Moss Landing. The flying bridge was cut off to get it to McAlpine Lake.

There is a photo of this same boat to be found in the larger collection of fishing boat photos provided to us courtesy of Mike McCorkle. That photos show the boat in Moss Landing.

Mike also reports that when Larry White owned the boat he fished for white sea bass at Morro Bay. He used a net reel to wind up his nets. He liked to pull fast and got himself caught up in the net reel. He was found dead at sea.

Mike report that McAlpine Lake is a man made lake with fishing and camping. We share Mike's sentiments that at least the boat didn't get crunched up and will be around for a few more years.


---
*38' Albacore Boats by Kettenburg - Ruth K*

The Kettenburg fishing boat RUTH K was from San Diego. She was painted red-white-blue, and this color scheme made her stand out. Harry Brady sold her and she ended up fishing from Port Hueneme for awhile. She fished for rock cod.

While she was anchored in Cuyler harbor on San Miguel Island the anchor drug. She hit an underwater rock in the middle of the bay and sank. The two guys on her were taken on to another boat, but their cat climbed up the mast and wouldn't come down. There were pictures of this with just the mast sticking up.

A salvage barge from Santa Barbara went over and picked the boat up, put it on deck, and took it to the Lindwall Boat Shop. They stripped the boat... Cat motor, mast etc. They took the bare hull over east of Stearns Wharf and sank it in the kelp bed off of what is now the DoubleTree Hotel. Mike McCorkle, 12/06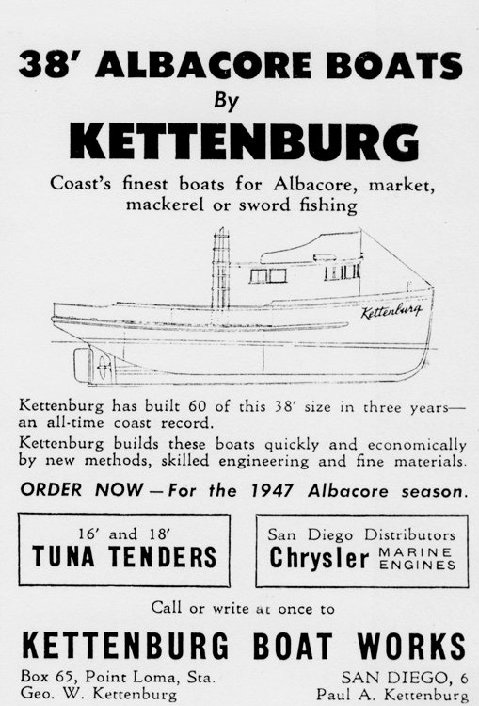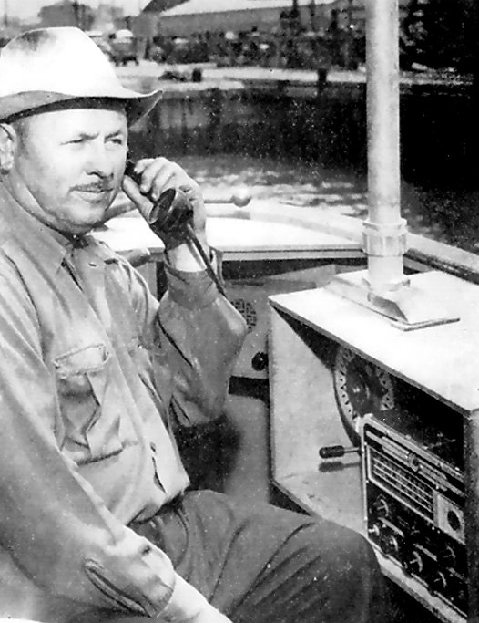 Harry Brady on the Ruth K Kettenburg -38 About 1950
---
Patience

By: Mike McCorkle as of 1/07

Patience when originally build was named Riba. It was built for Frank Saldek. It had a Chrysler Crown Gas Engine. It had a long cabin with the back door on the starboard side. There were 2 round portholes on each side of the cabin, where the square ones are now.

Frank died in 1964. He tied up in fish harbor, terminal island, at the long pier by Pan Pacific Cannery. He also owned a 34 Ft. Monterey Boat named Crown, which he tied along side the Riba.

He [didn't go] fishing very often. Both boats were painted the same; White hull, tuna red decks, and inside bulworks and black guard rails. Frank had a big red nose like W.C. Fields, and was a big man. Riba disappeared from Fish Harbor after Frank's death.

I hadn't see it again until now. It was purchased by Oliver Roney Jr., and [he may have gone] to S.F. I'd say he made a yacht out of it, as I never saw it fishing. He gave it to the Boy Scouts in Orange Co. who sold it to Robert Finnegan in 1985. [Robert Finnigan] sold it in 1997 to Leon Selliez, who sold it to Chad Vosskuhler in 2002. Chad sold it to Catherine in 2006. I see a for sale sign on it now; Is it for sale?

View Photos of this Boat
---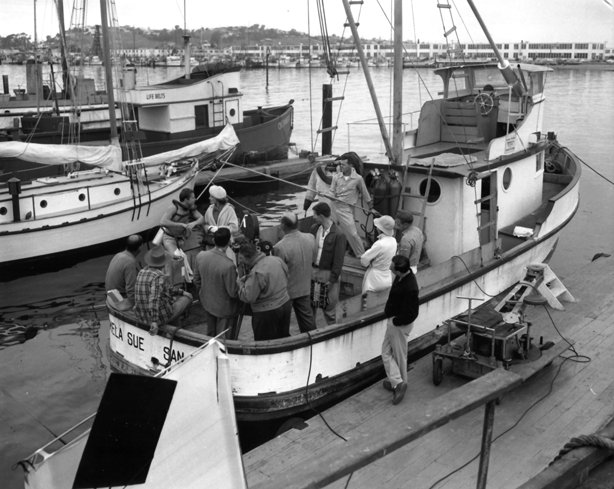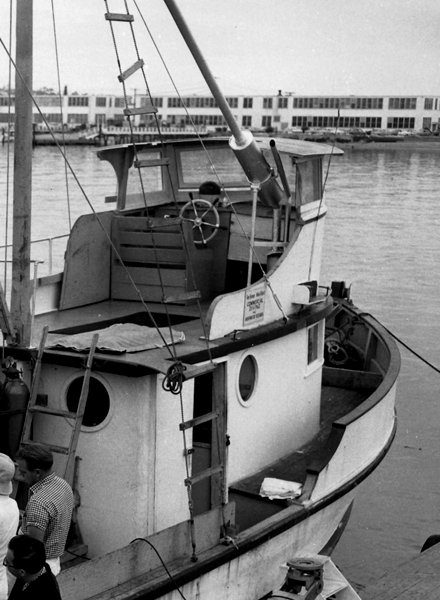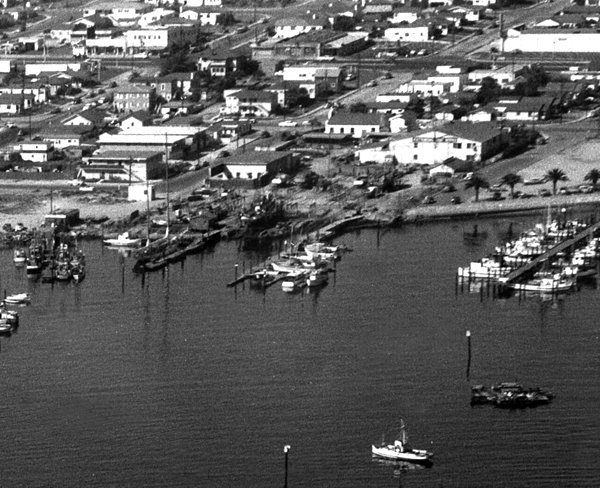 Point Loma in a Long Long Time Ago

---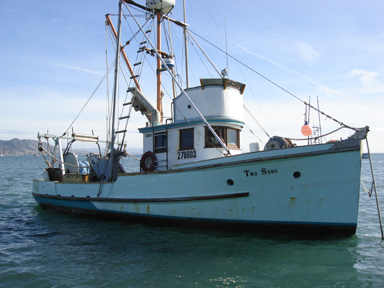 This boat, TWO SONS, is one of the three Kettenburg 38' fishing boats built during WW 2 that is still fishing the coastal waters of California (as of winter 2008). The other two are THEA MARIE out of Santa Barbara and BRIGHT STAR out of San Pedro. TWO SONS is moored in Avila Beach, CA, which is also called the Port of San Luis Obispo.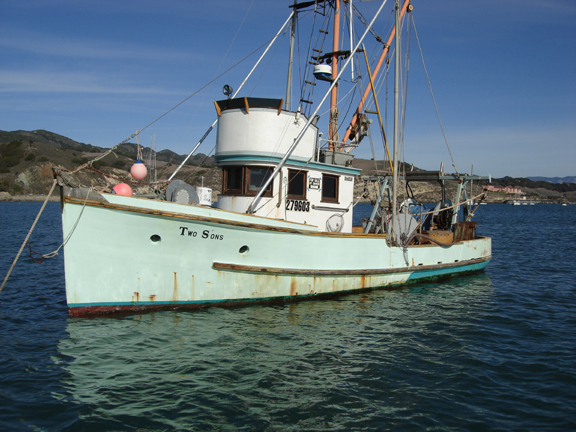 TWO SONS is owned by Ed Sylvester. Ed reports that he invested a lot of work in her about two years ago. We will be interviewing him soon to get an outline of what was accomplished.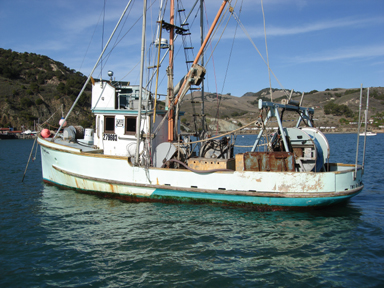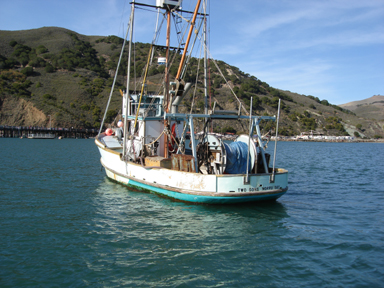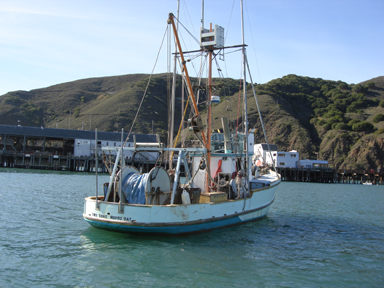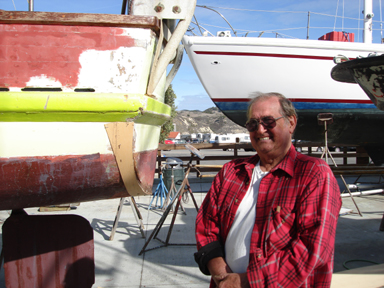 ---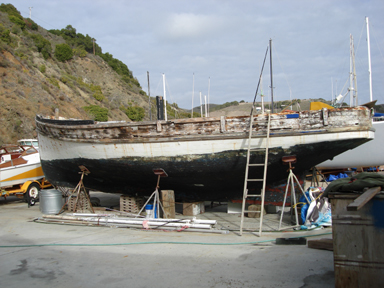 Thanks to Marty of Marty's Marine in Avila we were able to get photos of this 32' Kettenburg fishing boat hull before she is cut up. Marty had hoped to restore this boat, but discovered that the inappropriate installation of a fish holding tank by a previous owner had caused so much rot to set in amidships and in the stern that the cost of renovation would have been in excessive.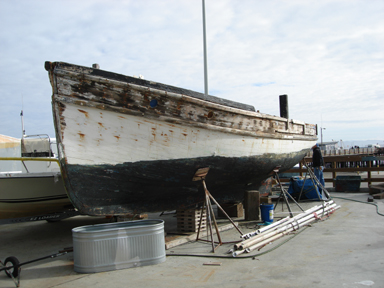 So, here she sits in his yard awaiting the landfill or ??? It is reported that a movie prop company plans to acquire the hull and convert it into an amusement ride backdrop.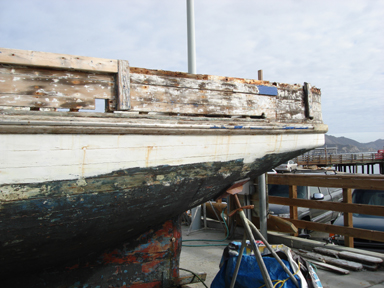 Anyway, the story from Marty and Ed Sylvester is that these 32 ft "fishing boats" were sent to the So. Pacific during WW2, used as spy vessels until the Japanese caught on and sunk a bunch of them. We have not heard this story from the Kettenburg family, but will check it out.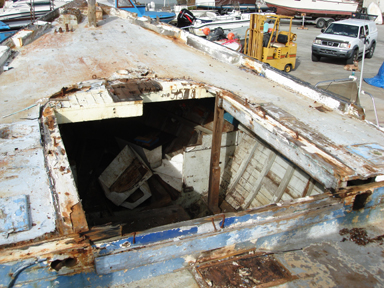 As you can see her cabin was quite small.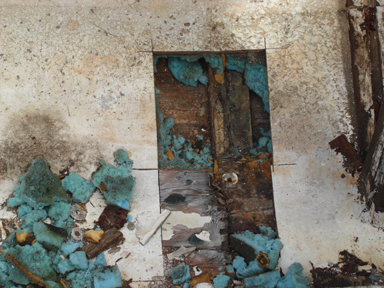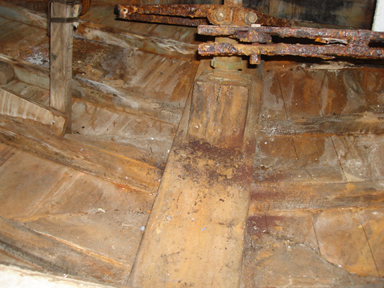 The stern has some overhang/fantail and the signature Kettenburg "knuckle" curve to the aft corners.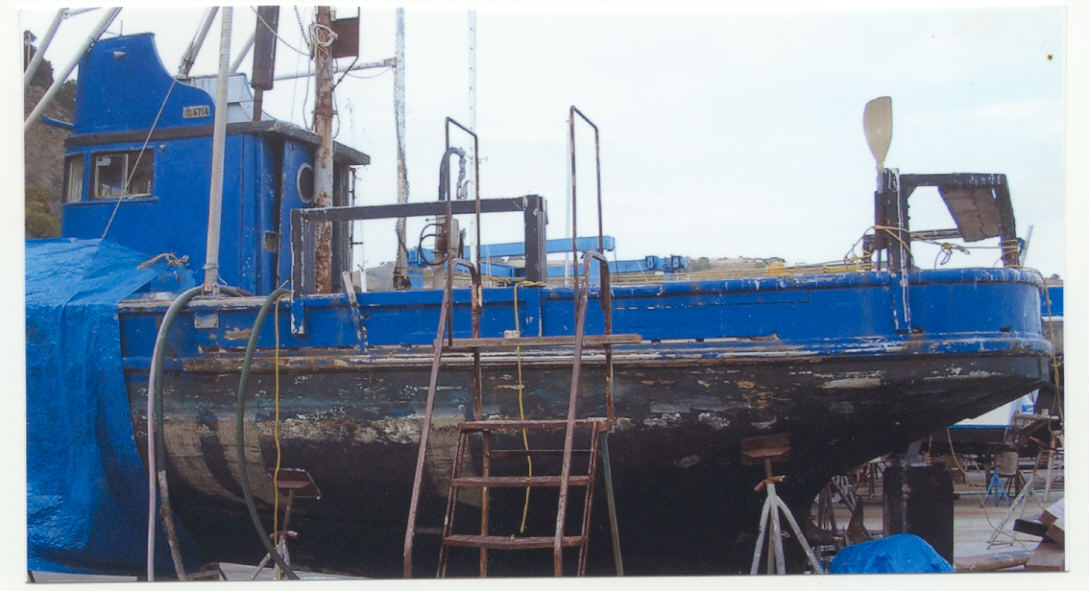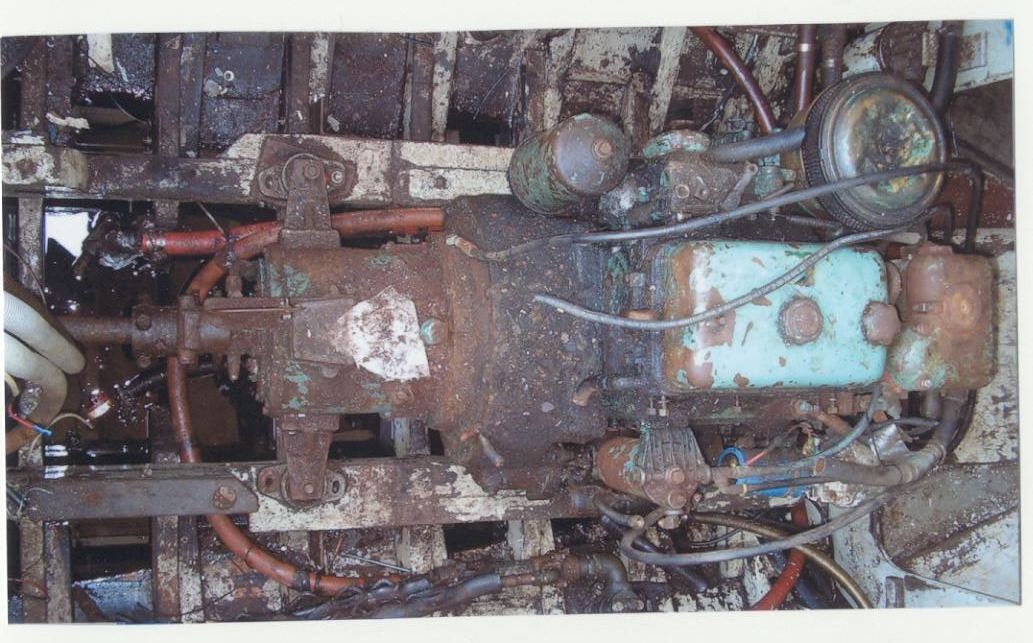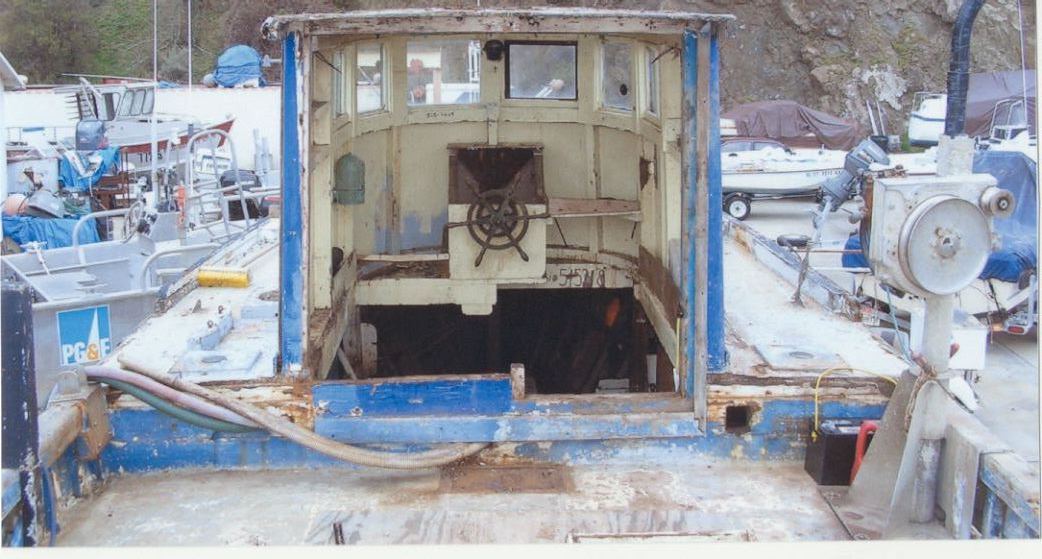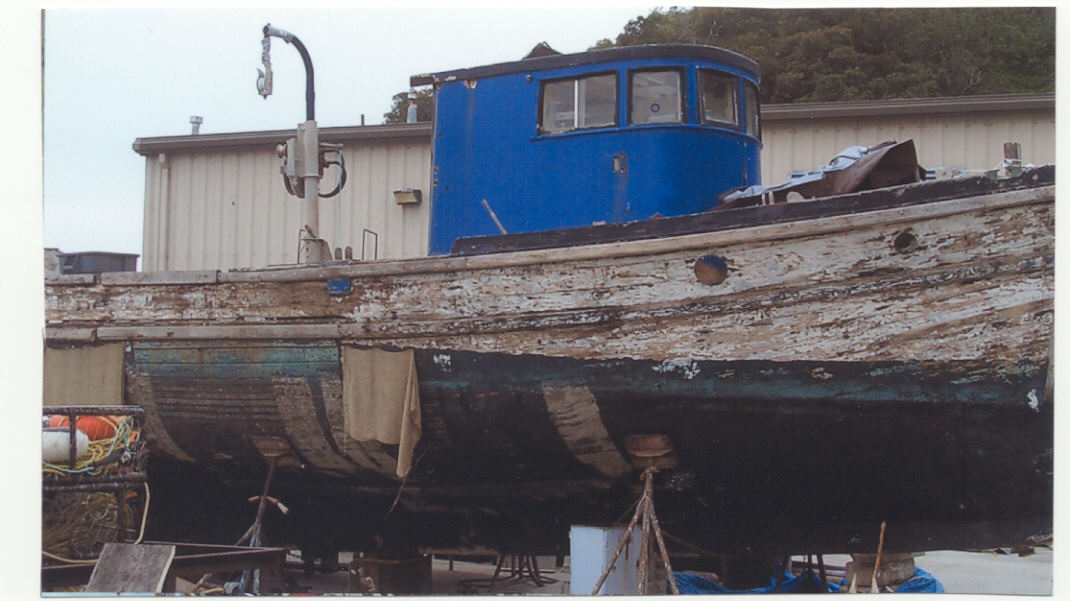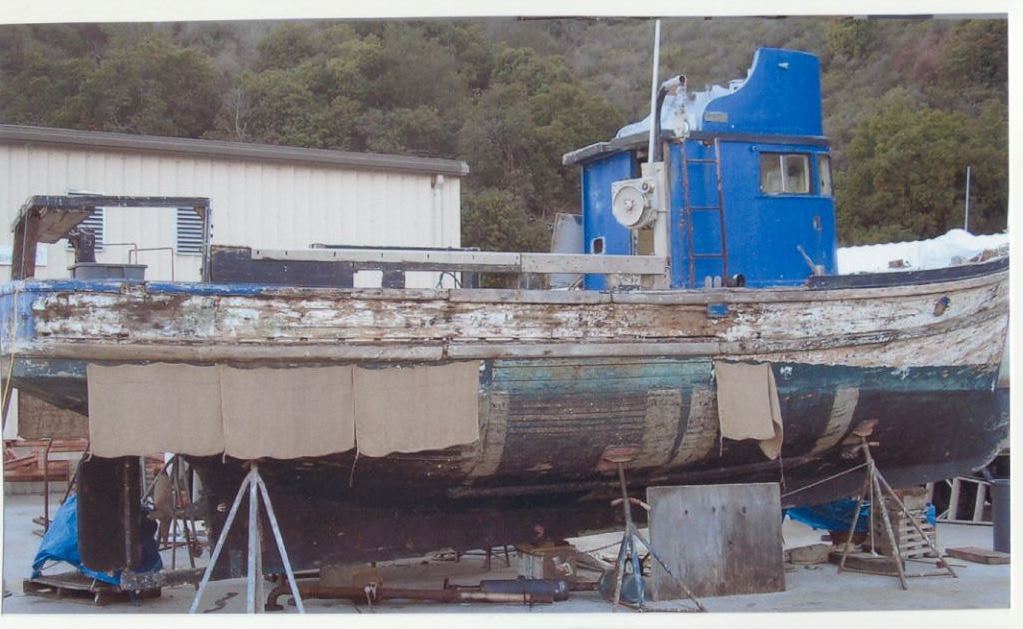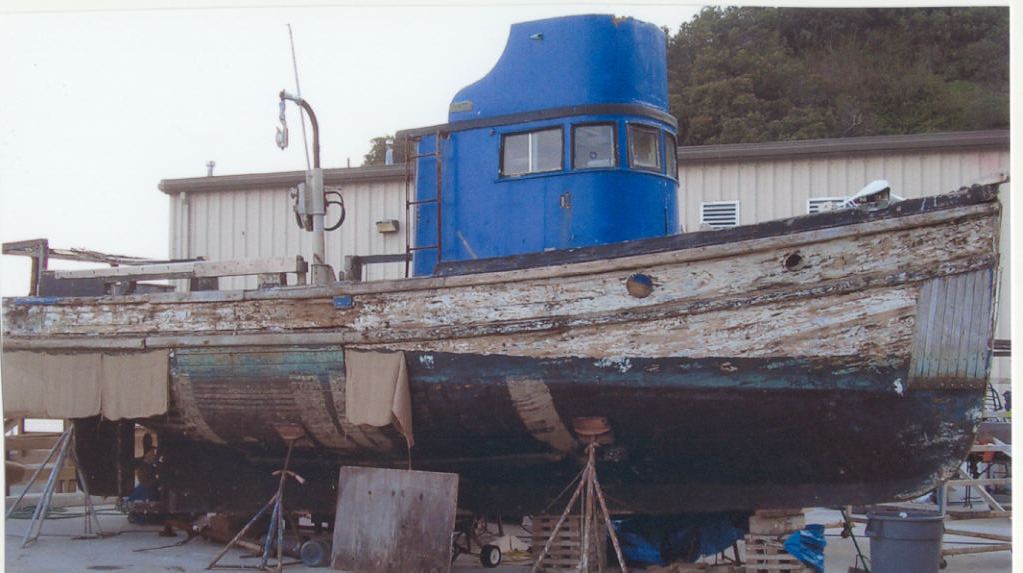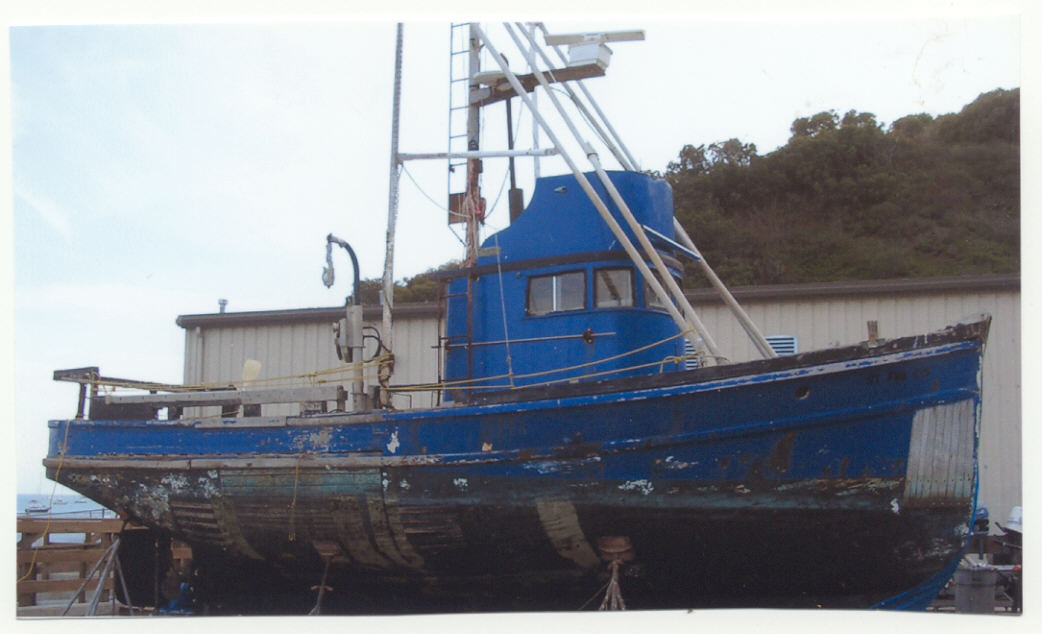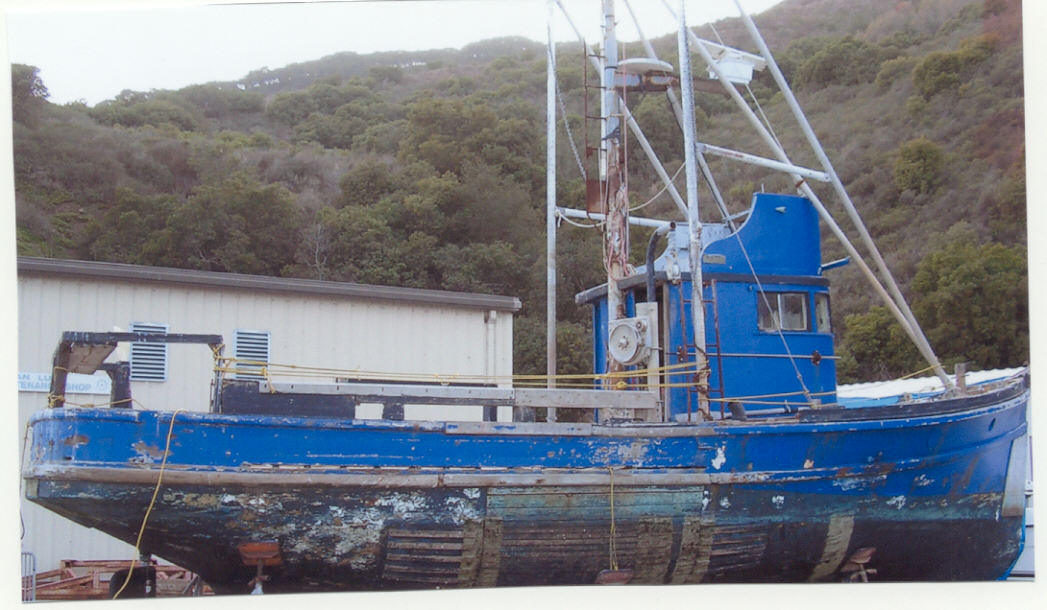 ---
QUEEN OF PEACE Collection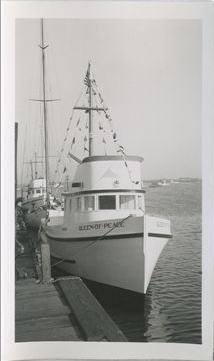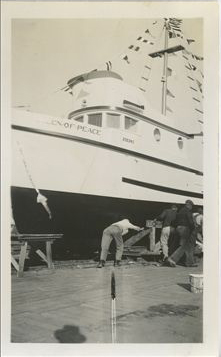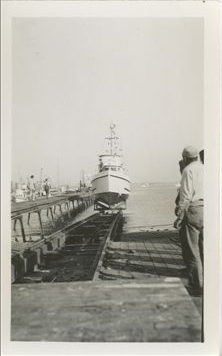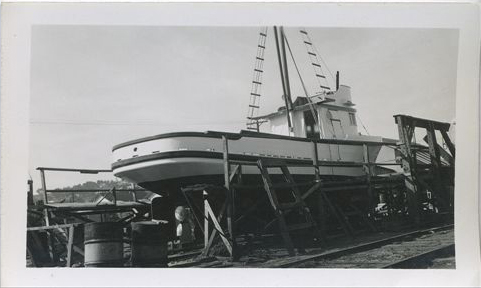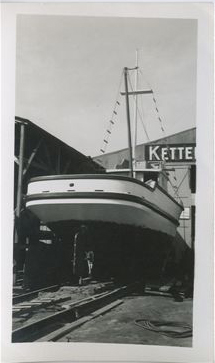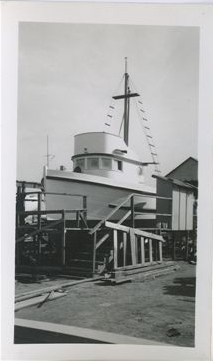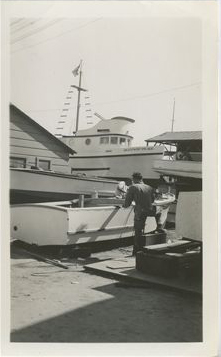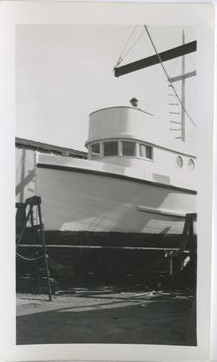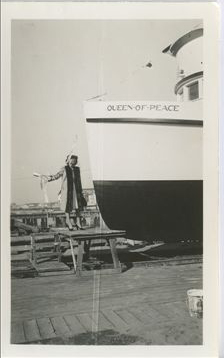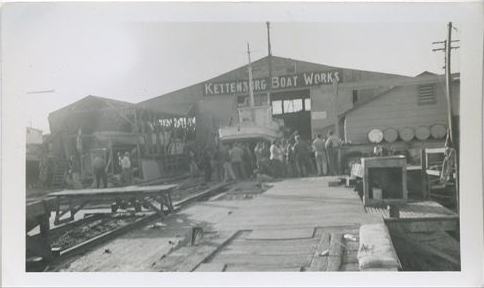 ---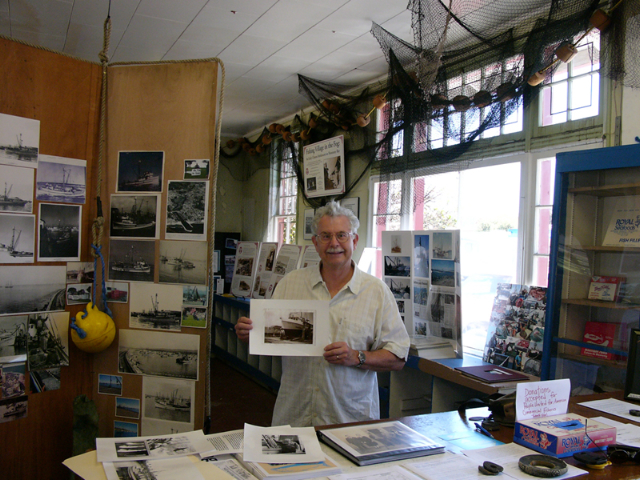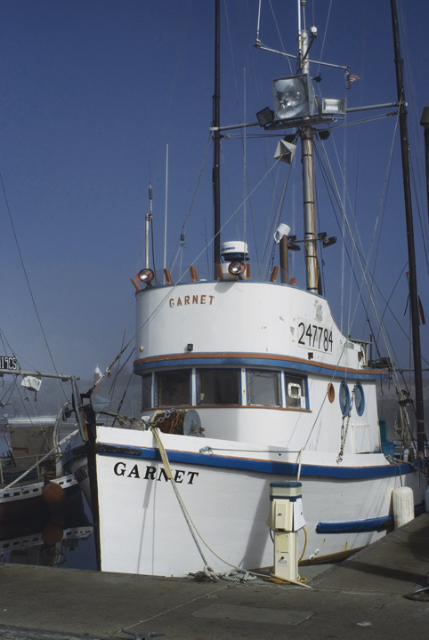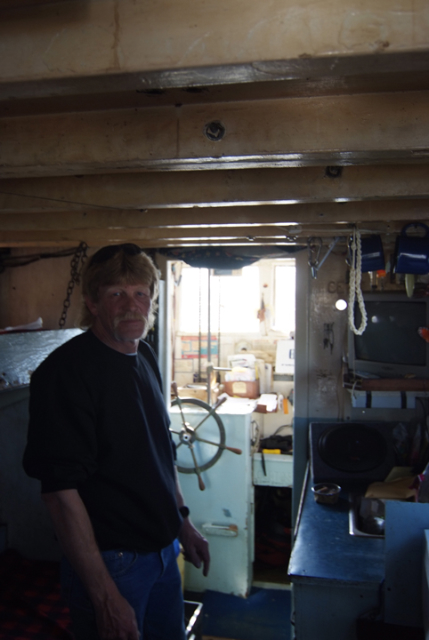 Return to The Record