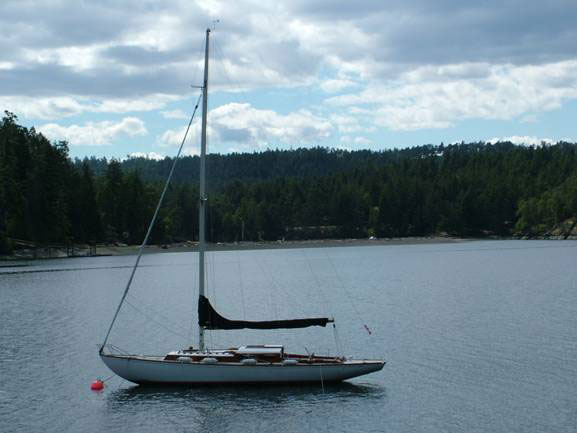 History of previous owner: Obtained boat in 1991 after it had been hauled and left in the weather for eight years. I built a building over her and for four years, replaced all ribs, wedged-glued and refastened all planks, sheathed it in epoxy, replaced the deck and beams. Restored the cabin tops and sides, reglued the mast, replaced the cockpit, referbished the 12hp Yanmar, rewired, replaced the sails, installed a Wallis heater, replumbed etc. She was essentially a new boat in summer of 1995. Still looks great today.

K-38, Totem is listed on the Kettenburg web site Registry as being built in 1957. You will note that K-38 hulls #22 - #28 were built in 1954. Peggy Slater was the KBW Sales Manager in the early 50s, and who owned K-38, hull #22, Valentine. She was an extreemly good racer, and was well known on the Southern California racing circuit. (more about her later) Also during the same time, Charlie Ross (famous Star boat, and ocean racer) was selling Kettenburgs in Seattle.(more about him later)
Although KBW were building and designing premier sailing yachts, their strength was not sales and marketing. The majority of the boats sold after George Jr. started KBW in 1929 were fishing boats for the San Diego fishing fleet, and power boats under contract to the Navy.
George Jr.'s idea for selling boats in the Seattle area was to have PCCs sailed to Seattle (Bill Kettenburg, Charlie Underwood, and Bud Caldwell), and then George Jr. came up and entered races (which he won), and then sold them to Seattle buyers. (the Gossip, and Hussey) Dr. Phil Smith bough the Gossip. He was the Commodore of the Seattle Yacht Club at the time. That worked, so KBW then shipped K-38's to Seattle: K-38, hull #2 Ono, 1950 owned by Dr. H.W. Day, Rebel, 1952, owned by Doug Sherwood, and Totem, hull #23, 1954. owned by Henry Kotkins. Although the K-38 was designed by Paul Kettenburg as a cruising boat (his wife's idea), they were fast, and won their class in Swiftsure. Those were the only K-38s shipped to Seattle in the 50's K-38 Thetis arrived in 1961. In 1959 KBW shipped four PCs to Seattle.
Consider that the majority of the K-38s are accounted for, and the vast majority of them are in California. Enter the 1951 Transpac race: Peggy Slater was the Skipper of the 70' yacht L'Apache from Avalon, Catalina Island, who had Life magazine photographer Ted Sieks fall overboard. (another story) Bill Kettenburg (George Jr.'s son) and Charlie Ross were amoung the crew on PCC, the Gossip. Henry Kotkins, who was the original owner of K-38 Totem was the owner of Bergman luggage in Seattle. He bought Totem from Charlie Ross. When Henry sold Totem, he bought L'Apache, and renamed her Diamond Head. Henry has since died, as with Charlie Ross. Henry's son Skip now owns Bergman luggage, and Diamond Head. Diamond Head is kept on A dock at Shilshole Bay marina in Seattle, where she has been since Henry bought her.