A very busy week at the yard. Lady J's hull is pretty much ready for wet in, even if it rains. The stain is done and there's a coat of CPES over it to keep rain from leaching out and streaking it. After she's wet in, we'll apply 12 coats of varnish over it, above the waterline.
Here are a couple of shots: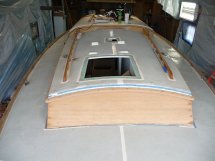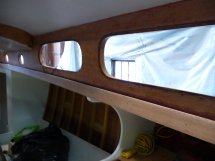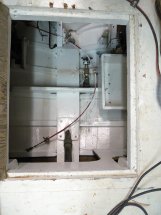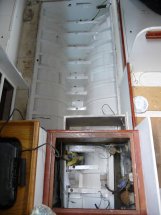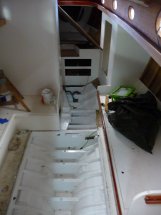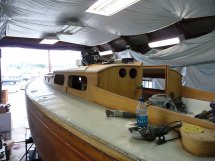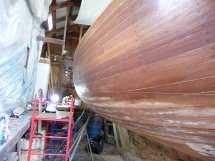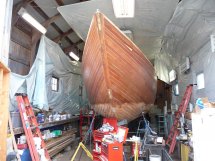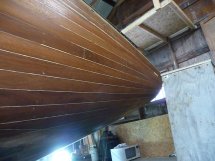 The boys have been busy with the house. It will be done natural with varnish. We've also been working inside and in the bilge, detailing it out. Aft under the cockpit (there's a bit of cleanup and detail there yet to do since Twan got a bit carried away with the paint.... We'll swap out the thru hulls and install new packing before she goes in the water next Friday for an over the weekend soak. We also have to strip the floors and apply the teak and holly ply so there's much yet to do.
---
10/8/2010
It's been a while since the last report as we've been busy but here goes. After looking at options for the transom, which is ratty plywood, I settled on covering the ply with a nice, figured Honduran Mahogany veneer. We cut it to fit using a template, spread thickened epoxy and placed it. It proved to be difficult to get the bubbles out and the edges flat with such a large piece. This is how it looked after we finished applying it.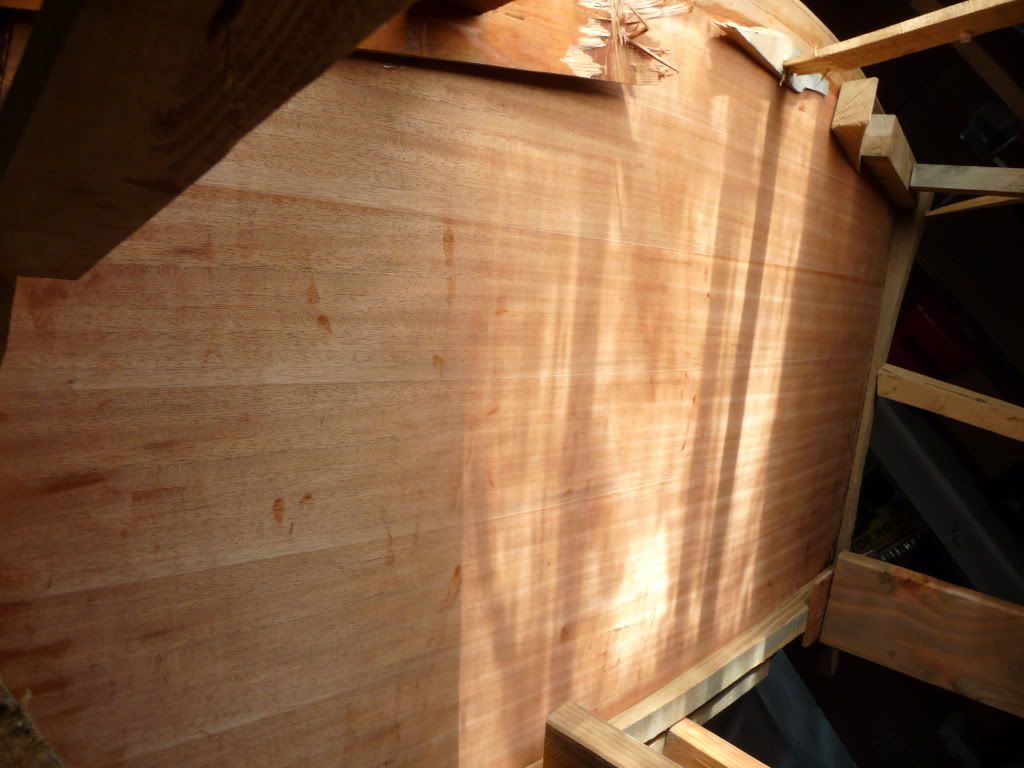 We still had to add more bracing to get the edges flat.
The next day, I checked it out and didn't like it. From five feet away it was fine but I don't tolerate that. We peeled it off with heat guns and putty knives. Needless to say, it wasn't a painless process. I spent the next two days repairing the damage.
This time, I'm going to separate the planks in the veneer with heat (I found this when taking the other off) and lay them up individually. This should be a more manageable process.
The boys have been busting their humps on the brightwork both inside and out. They finished prep on the exterior and I applied CPES prior to varnish.
and
The interior is about 80% prepped and will gert coated this week.
and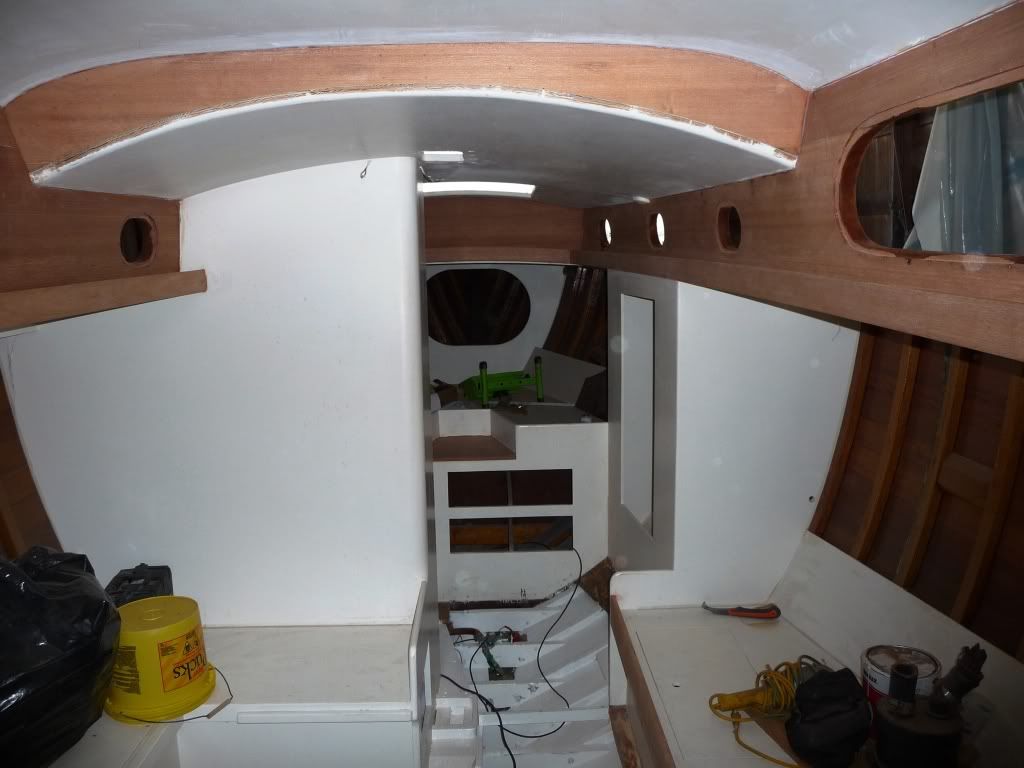 My new detail guy is terrific. He takes some of the load off of me.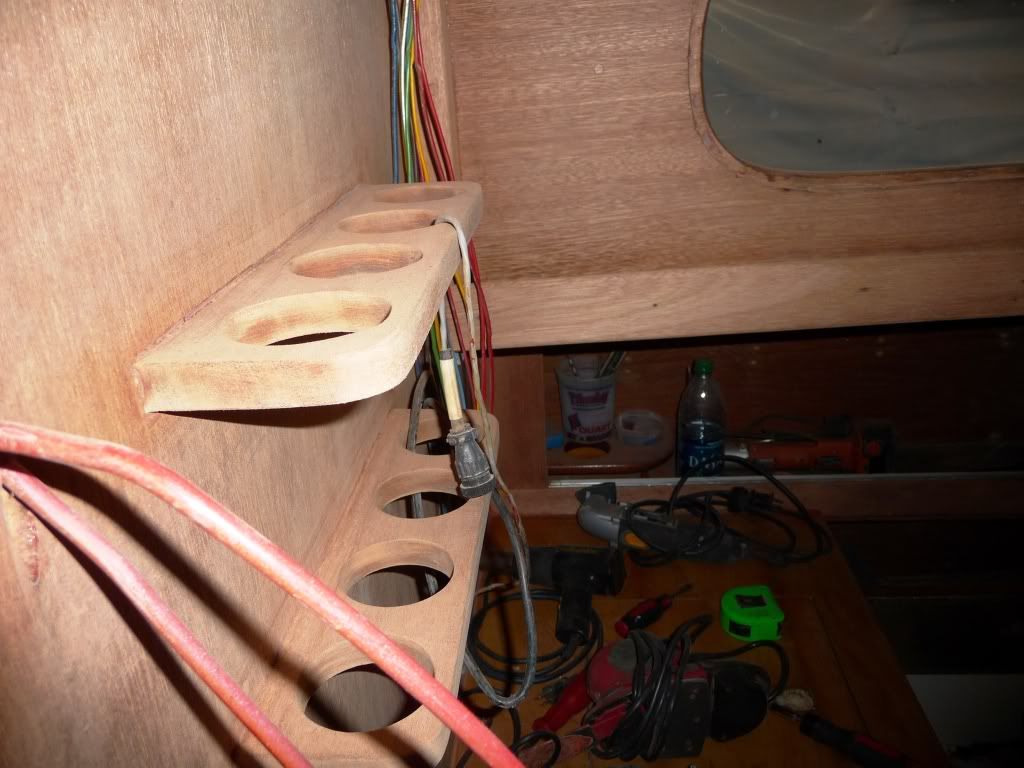 There's still a good bit of interior parts to be done.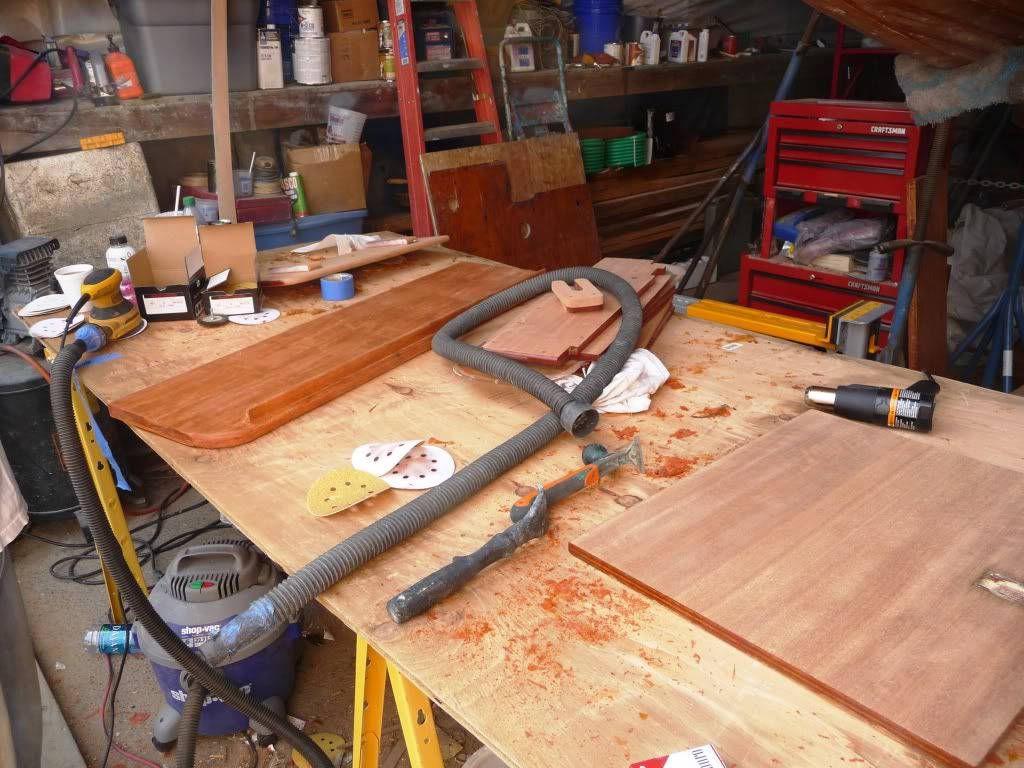 and
During this time, the owner decided he didn't like the look of the seam compound as some of it had soaked up stain and other parts hadn't. He disliked it enough that if I couldn't fix it, he was ready to paint the boat instead. After some trial and error, I came up with something that worked. He was happy and here's the result.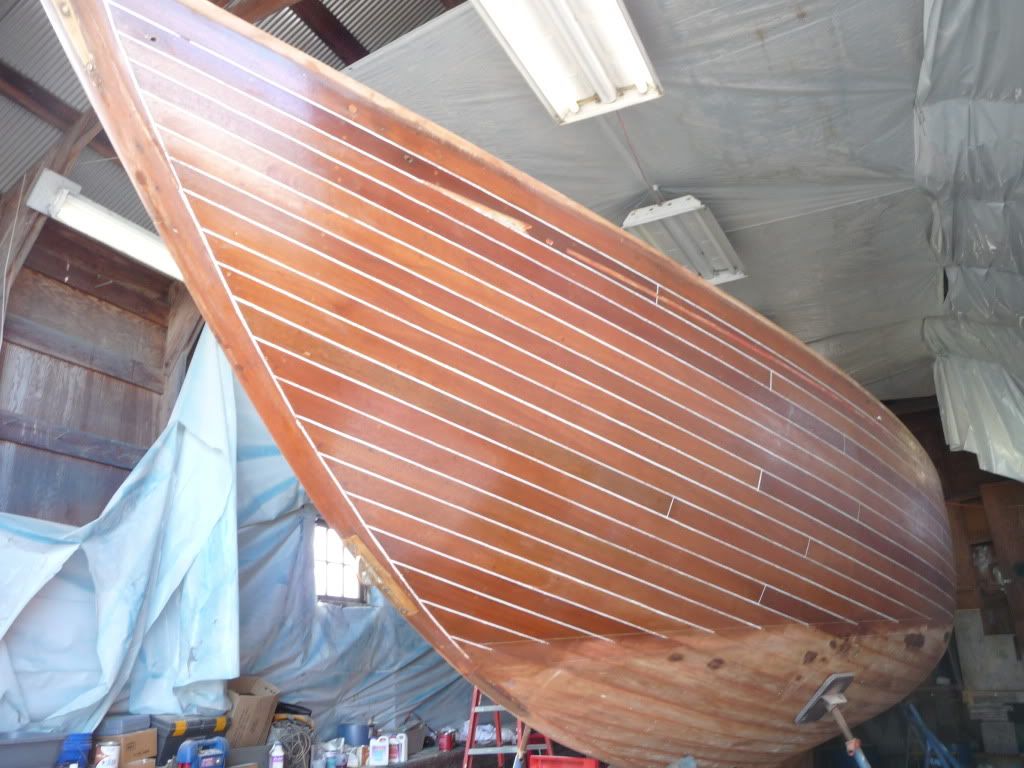 Of course it will turn amber with the varnish but as long as it's uniform, that's cool. Another issue popped up with the mast. It continued to separate at the seams just sitting level on the rack so we decided it was time to rebuild it. Here's a series of teardown pictures. Trust me, this isn't for the faint of heart...
Yesterday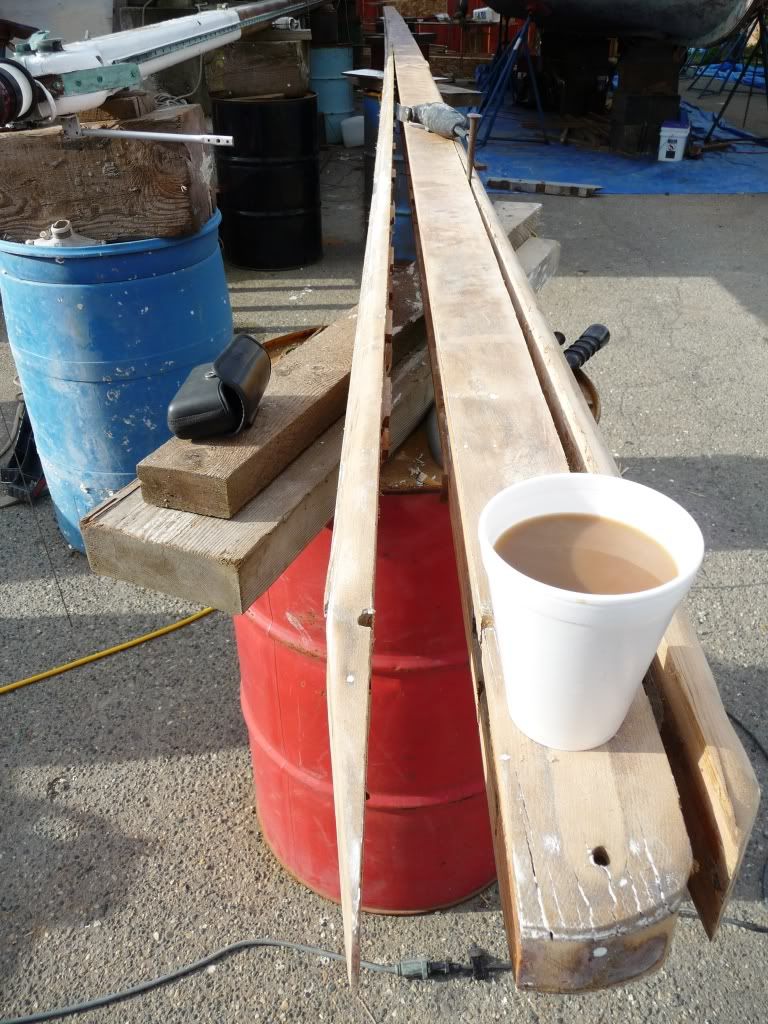 This morning
Tonight
Some of the seams popped cleanly
Some are ugly and will require a lot of work to get straight and clean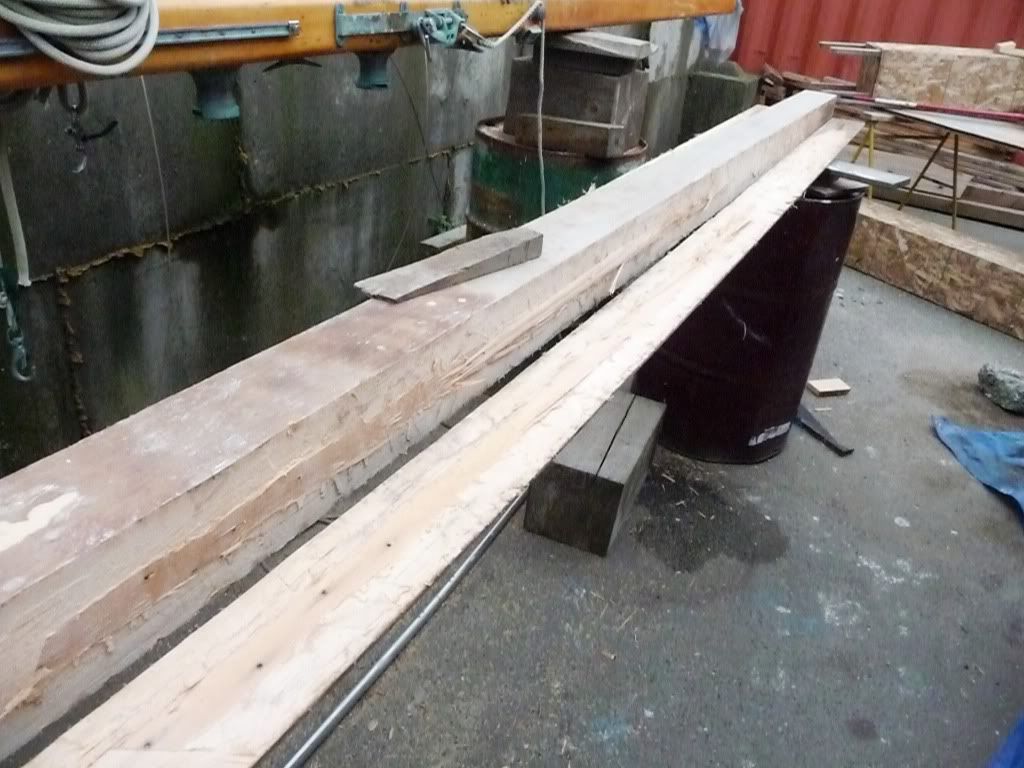 Where the old resourcinal held up was impossible to separate and had to be sawn. I'll likely have to scarph in a bit along that area but that's ok. I lined up some old growth Sitka Spruce today in case.
Finally, there was this little bit of fairing for the depth sounder from Sapele that I carved on the bandsaw. I like it...
---
10/24/2010


It's been a while but I waited until I had a bit of something to show. Progress is a bit slower now without the major changes. We've been laying varnish on her and inside as well. The hull has four brushed coats so far and will get at least one more before we block her smooth. Once she's blocked down, I'll start spraying her. The varnish surface is almost where I want it before we get it perfectly level. The interior has three coats and will get two more before blocking and then I'll spray it as well. I did manage to get the veneer on the transom. I'll detail it, stain, CPES and epoxy it before we start the varnish regime. We have some catch up to do on it. All in all, just getting things done or waiting for wood. The engine will be done within a couple of weeks, hopefully. The electrical is waiting for Blue Sea to finish the custom panels.
---
11/7/2010
Just a quick update. We've started scarphing in mast sections prior to assembly. Here we are matching the curves.
Now we're checking the joint lines.
A ton of work to get dissimilar pieces to match up before we make the round-over cut. We have three spray coats on her since the first blocking now and she's starting to shine. Only two more to go before the final blocking to remove any grain dips and level the surface and then two to three more spray coats.
Here's a couple showing the sides of the hull without flash.
Portside forward
Portside aft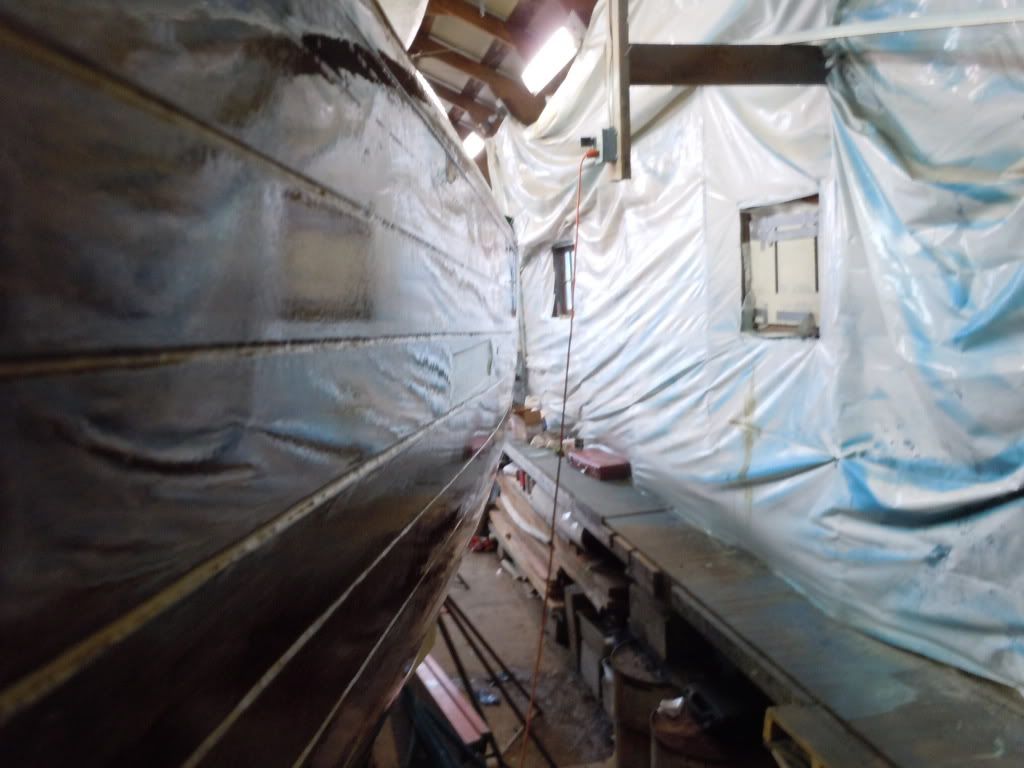 Starboard forward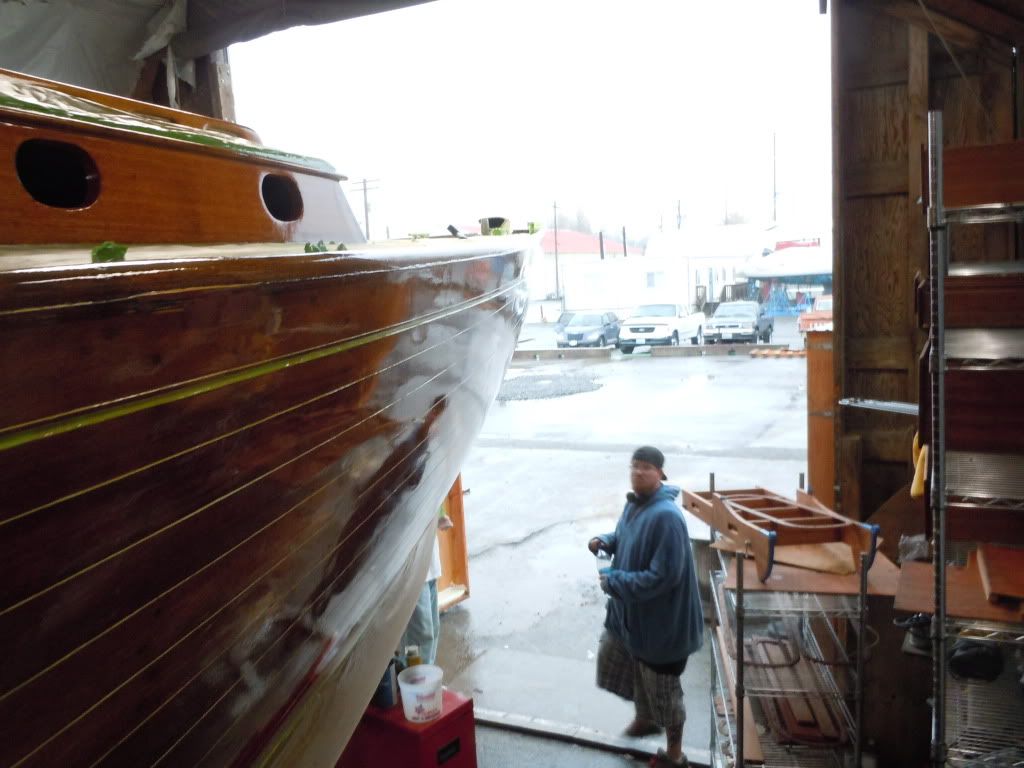 Starboard aft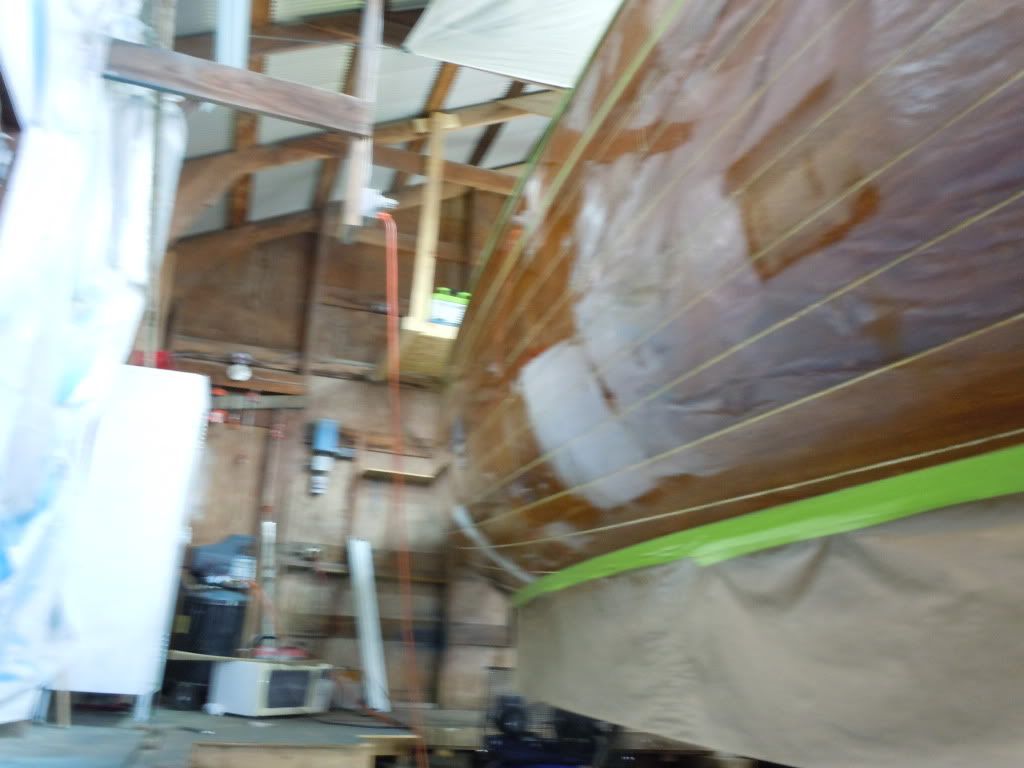 Two photos of the same spot aft both with and without flash.
and
A little reflection test on the aft toe/transom rail.
These may be the least shots from this old building since we are moving to a newer, larger building this next week.
---
11/10/2010
Ok, busy, busy day. We pick up a Kettenburg K-40 and moved the boats into the new building so now the Lady J and Oh Joy are roomies. I must say, the Lady J looked good in the sunshine and this was the first time I've seen the entire boat since she went in but I'll let the pictures speak for themselves.
The new building
Lady J makes the trip.
So, there ya have it. The girls are sharing a house until at least April.